Friday, October 1, 2010 at 5:40PM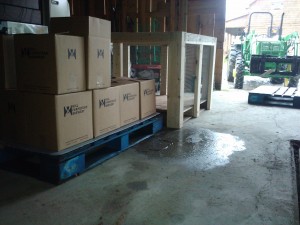 The final numbers from today's labeling session are in...
The following amount will be for sale tomorrow.  Limited to 3 bottles of each label , per person.  If there are still bottles remaining at 5pm, the limit will be removed...
F/T French Oak: 300 bottles
F/T Blend: 312 bottles
F/T Bourbon: 288 bottles
Jim: 216 bottles
Definitely a bit soggy outside - we suggest wearing proper attire.  The band has finally agreed to play.  Weather is clearing up.  We'll pour Mikkeller Beer Geek Bacon and have also added our new saison, Arthur, to the draft line up.  Cheers!